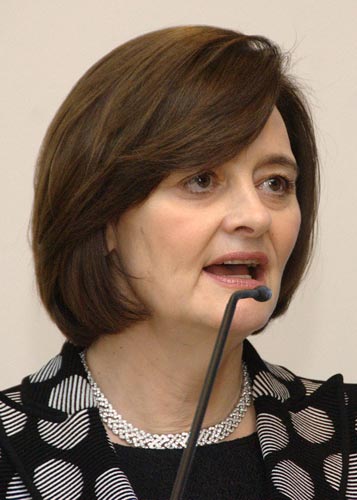 "Giving women the chance to become financially independent and make the most of their talents is the key to higher living standards and stronger economies." Cherie Blair
"Female entrepreneurship is the new wave of business success". That is according to Inc.com contributor, Steve Blakeman who was as named by LinkedIn as a 'Top 10 Writer' for Marketing & Social Media for two consecutive years (2015 and 2016). Despite the overwhelming research that shows that female entrepreneurship will lead the growth of business success in the future, there remains a glaring gender disparity between the number of start-ups.
Organizations such as the Cheri Blair Foundation Foundation's whose vision is "a world where women have equal opportunities and the capacity, confidence and capital necessary to establish and grow businesses…" are leading the charge to empower female entrepreneurs to make meaningful changes in their lives and their communities.
Four Saint Lucian female entrepreneurs are beneficiaries of the Cheri Blair Foundation's "Mentoring Women in Business Program" which is facilitated exclusively by the Saint Lucia Coalition of Service Industries (SLCSI) through its partner organization, the Caribbean Climate Innovation Centre (CCIC). CCIC serves as the regional hub for the Foundation and facilitates quarterly intakes of female entrepreneurs at various stages of business growth. The program matches women in developing and emerging countries with male and female mentors around the world. Using an online platform, the mentees spend 12 months working one-on-one to achieve key business goals. Participants build their business skills and digital literacy through the foundation's trainings, and become part of a global community of committed, ambitious entrepreneurs who are invested in each other's success.
Meet our Cheri Blair Mentees
Sabina Valmont
Mrs. Valmont wears several hats; not only is she an entrepreneur, a wife and mother, she also serves as the Chairperson of the Steering committee of the Southern Business Association (SBA) and is councilor with the Vieux-Fort Town Council. An educator by profession, Mrs. Valmont initially ventured into entrepreneurship as a restaurateur then eventually found her real calling in hospitality.
Sheryl Schaper
A hospitality professional with over 30 of experience, Sheryl has held various executive positions at leading properties in Saint Lucia; she is one of the first two entrepreneurs accepted into the program. Sheryl is the name behind and face of Love Dove Saint Lucia, a relatively novel business concept to the island. Click here to visit Sheryl's Facebook page.
Sherrian Saltibus-Edgar
Coco Love is, as the name implies, a reflection of Sherrian's passion – Chocolate. Sherriann was trained at the Ecole Chocolatier in Canada and is the proprietor of Coco Love. A former banker, Sherrian decided to pursue her dream of opening her catering business; So, today, from her spanking new industrial kitchen she produces artisanal chocolates, deserts and cocktail items. Click here to connect with her on Facebook!
Naomi Chryselda Mathurin
Seasoned educator and Hospitality Trainer, Ms. Mathurin is the Director of Golden Connections Training and Consultancy Agency. Naomi, fresh from a stint at the Turks and Caicos Community College, embarked on this business venture to offer her expertise to individuals who want to pursue a career in hospitality and tourism or enhance their skills, knowledge and competences in these specialized areas.
Ms. Mathurin credits her Mentor for her renewed passion for her business and advices her fellow mentees and aspiring mentees that, "Anything worth doing is worth doing well. Embrace this opportunity afforded to you and learn from the best in the business."
The foundation offers two other programs: The Enterprise Development Programme which "addresses challenges such as lack of access to the financial services, skills and opportunities by enhancing women's access to capital and markets, delivering tailored business training, and facilitating business registration; and The Mobile Technology Programme which leverages mobile technology to support women entrepreneurs in becoming successful business owners. This programme works with a wide range of partners in the mobile ecosystem to provide women entrepreneurs with access to training, technology, networks and capital. Previous and existing partners include the Vodafone Foundation in India, GSMA, ExxonMobil Foundation, Visa and USAID.
For more information about the Cheri Blair foundation's mentoring programs visit their website at http://www.cherieblairfoundation.org/programmes/mentoring/. To join the growing pool of dynamic female entrepreneurs benefiting from the program contact the SLCSI at info@slcsi.org.lc or slcsi@candw.lc.