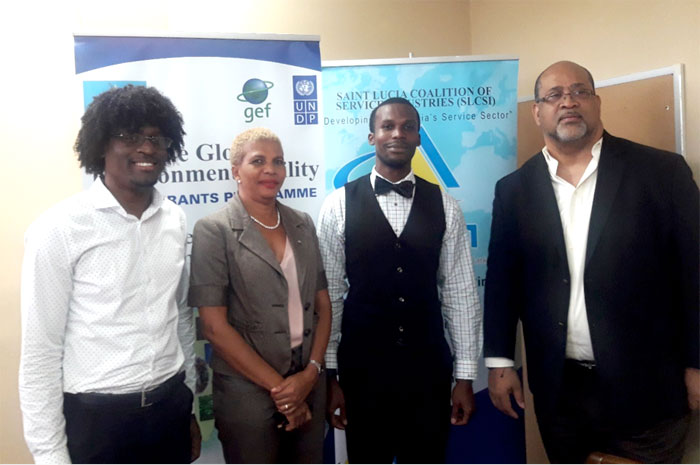 Green Tech is trending and the SLCSI has taken the lead among Business Support Organizations in adding its voice to the movement and lending its technical and financial support to SMEs in the green tech space.   With climate change creating an ever-increasing volatility to small island states with the scarcity of resources and dwindling water supplies affecting food production, there is a need for innovative ways of dealing with agriculture.
In 2015 the SLCSI served as the hub coordinator for the Caribbean Climate Innovative Centre (CCIC) and facilitated the Green Tech Bootcamp for green startups. That undertaking was an eye-opening and redefining experience for the SLCSI as it introduced a generation of non-traditional service providers brimming with opportunity for innovation. Clearly, the wave of greening our world was at our door and it was undeniably the way forward. Green technology shows all the signs of being the next industry to create significant grown within the region and providing a more secure, clearer future. Recognizing this the SLCSI has joined the green movement.
The remarkable success of the CCIC Bootcamp translated to several of the participants moving on to compete in the Caribbean Tech Enterprise Program (CTEP) and three Saint Lucian startups emerging winners in the three categories.   Companies such as EcoCaribe, Eze Green and Greening the Caribbean have received mentoring and coaching through the Green Tech Bootcamp, whilst Eco Caribe benefited from export development training (Services Go Global) and financial assistance through the Caribbean Development Bank CSME Standby Facility, "Developing Saint Lucia Services Sector".
To assist in jump-starting the Green Technology Industry in Saint Lucia the SLCSI has partnered with two young entrepreneurs to launch the first-ever climate-smart greenhouse in Saint Lucia. Powered by solar the greenhouse will be fitted with sensors to assist in the automation of process and providing key growing metric all to create a balanced high energy environment ideal for optimal crop yield. GEF UNDP threw its support behind the project with a USD 50,000.00 grant.
FARMSAI, an agribusiness cooperative data management system driven by blockchain, received financial support from the SLCSI to participate in Pitch@Palace, an opportunity for Entrepreneurs and early-stage businesses to pitch to CEOs, Influencers, Angels, Mentors and potential investors and Business Partners.
---
Revolutionizing agriculture through smart greenhouse technology
Food security is a major global challenge and two young Saint Lucian entrepreneurs, Keigan Mayers and Jade Hutchinson are determined to tackle the challenge of food security by revolutionizing farming in Saint Lucia and by extension, the Caribbean. The Saint Lucia Coalition of Service Industries (SLCSI) in collaboration with Keigan and Jade successfully applied for a USD 50,000.00 grant from GEF UNDP and is set to embark on the first-ever climate-smart greenhouse project in Saint Lucia which was launched in April 2018.
Keigan is a registered farmer since 2014 and has undergone training in protected farming and grower development in Mexico with the CRESIAP institute. A designer by profession and keen entrepreneur Jade is a Director at Noah, a solar energy solutions company. Keigan and Jade have combined their expertise and experience to cofound an agro-tech company which focuses on technologically advanced agricultural systems and climate resilient agricultural systems in developing countries.
The project will directly address the challenges farmers like Keigan face daily, challenges that limit their output, produce high vulnerability to the environmental factors and limit their ability to respond adequately to market changes. The goal is that through the application of technology Saint Lucia can usher in a new revolution in the industry of agriculture and take the lead within the region in addressing food security.
Today, the project is in its early stages of implementation. The SLCSI is excited about working alongside these young entrepreneurs and is looking forward to breaking ground in June 2018