Saint Lucian music and artistry will take the stage in Barbados as 4 Saint Lucians, on the recommendation of the SLCSI & Cultural Development Foundation (CDF), participate in a conference and showcase hosted by Caribbean Export Development Agency (CEDA) and the Barbados Coalition of Service Industries (BCSI). Representing Saint Lucia are Omega Alexander, Kimberly Charlery, Nicholas Pierre and Ishmael Gerald.
CEDA continues to demonstrate its commitment to the development of the services industry through its sponsorship of 20 creative/cultural industries (CCI) practitioners in the following sectors: Fashion, Craft and Music from the CARIFORUM region to participate in this event from October 17-20, 2018.
The conference which coincides with the celebration of Services week in Barbados comprises a show and 2-day workshop.  The BCSI will be celebrating services weekend with their Firefly event on Saturday 17th. Firefly is a showcase of upcoming designers, singers and artists and the BSCI will be providing the opportunity for regional workshop attendees to participate in the showcase. As such, designers will have the opportunity to participate in the fashion show, musicians/singers will have the opportunity to perform, and craft people will have the opportunity to showcase their pieces.
Meet our contingent:
---
Omega Alexander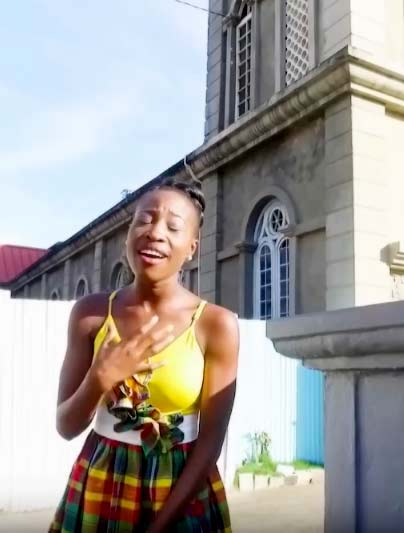 Born on the east coast of St. Lucia in the community of Dennery, Omega Alexander started singing at karaoke parties with her siblings and progressed to school music competitions and the national junior calypso competition in her teenage years.
In 2016 she made her debut on the national calypso competition and groovy stage and made it to the quarter final round and preliminaries respectively. On the heels of that achievement, Omega embarked on a project that paid homage to of St. Lucian music legends by covering a few of the classics by Dame Sessenne Descartes, The Mighty Pelay and Jany Williams. She is best known for her cover of Sessanne's "E'Oui Sa Vre" and is currently working on a gospel project that reflects her spirituality and culture.
Omega intends to use this opportunity to network with artists from across the Caribbean and enhance and refine her talent.  She will be showcasing elements of our culture by performing one of Dame Sessene Descarte's classics. Omega will also be expressing her writing ability by performing an original and contemporary piece from her soon-to-be released gospel album.
Below is the link to Omega's cover of Sessene's "E'Oui sa Vre".
https://www.youtube.com/watch?v=sfpAgzbtMIk
---
Kimberly Alexander – Bandbox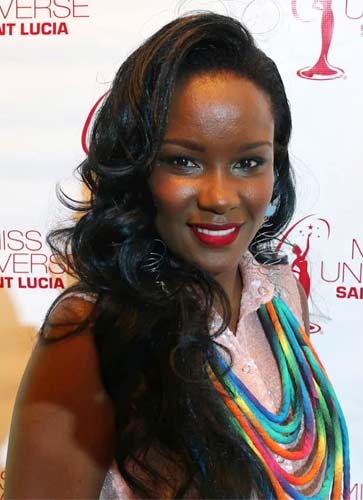 As an art student at the St. Joseph's Convent, Kimberly always fantasized about having her own branded boutique. Between her fulltime jobs she taught herself to sew and started making clothes and bags for her friends. Her first line of bags were a hit and sold out in record time. Propelled by that success Kimberly invested in literature and online courses to refine her skills. Through years of trial and error and a journey of self-discovery, in 2017, Kimberly's dream bore fruit when she launched her brand Bandbox with her signature moodcord. Handmade in Saint Lucia, the moodcord is an Afrocentric, fabric based, layered, statement neckpiece.
Kimberly believes that fashion is the ultimate form of self-expression; so whether one chooses to dress up or dress down, style expresses individuality. Bandbox has since released its Authentically Saint Lucian line and the Tete Mawe and Oh Sh!rt lines, both of which are best sellers. Kimberly has participated in fashion shows Suriname, Anguilla and Martinique and currently exports her merchandise regionally and internationally via her online store.
Bandbox, espouses the positive impact of uplifting each other, the effectiveness of helping each other along and the power of believing in yourself.
Bandbox guarantees quality merchandise to help you match or mix and always stand out with your personal style. "There is something about color that makes you feel different, happy; and we take pride in being a part of that". Visit Bandbox's pages @
http://www.thebandboxofficial.com/
http://fb.com/thebandboxofficial
---
Nicholas Pierre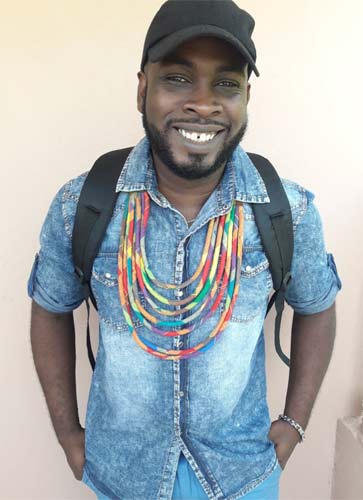 Nicholas Pierre is a 28-year old mixed media artist who works in different mediums including acrylic paints, markers and colored pencils.
Nicholas has been drawing from early childhood and was introduced to the art form by his older brother. Nicholas was drawn to art because it gave him the ability to express his feelings. "I've always been an introvert so just laying pencil to paper and brush to canvas was providing me the outlet to express my emotions. I've had to reinvent myself a few times as I try to turn this into a successful business and to create and artistic signature for my brand."
Nicholas hopes to learn from this workshop how to price his work, and distribute and market it through social or other media.
---
Ishmael Gerald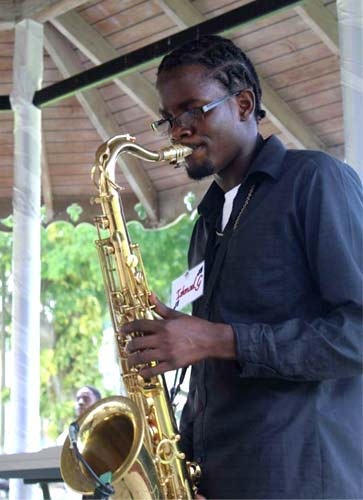 Ishmael comes from a musically inclined family. From a tender age he was exposed to music at home since his father played the guitar and he fiddled with an old drum his mom kept around the house; his older sister was also an amateur DJ.
However, his first inspiration was world-renowned guitarist Ronald Boo Hinkson who he saw performing at the Saint Lucia Jazz Festival. He said that performance totally changed his life and solidified his decision to become a musician.   Whilst a student at the Gros Islet Secondary School he played the Percussions Congo for four years. He dabbled with the guitar, flute and clarinet over a 9 year period until he fell in love with the saxophone and stuck with it since. He attended the St. Lucia School of Music where he received his CVQ and got the opportunity to perform at many different venues in Saint Lucia such as Side Stage St Lucia Jazz and Arts festival, Monday Jam Session After Jazz and Fire Grill just to name a few.
He also played alongside several accomplished Saint Lucian artists such as, Barbara Cadet, Emerson Nurse, Ricky Foster, Rambert James and Alison McKee.
Ishmael currently works as a Sales Agent and performs at hotels. He is excited about participating in the showcase in Barbados: "I hope to gain some tips on how to manage myself and my music business so that I may do music full time. I hope to collaborate with persons to build on the fundamentals I already possess. I have a passion for music and everything life".
The SLCSI wishes to thank CEDA for its outstanding commitment to the services sector and extends to the young artists best wishes and every success at the conference.